Awarded support
Taike awards 15 state prizes to distinguished artists and art communities
The national arts councils of the Arts Promotion Centre Finland (Taike) have awarded state prizes for 2022 to distinguished artists, artist groups and art communities. This year, a State Prize for the Social Impact of Art was also awarded for the first time.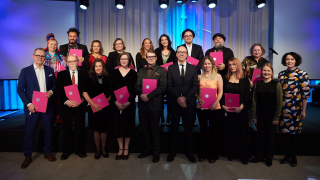 State prizes are awarded in recognition of outstanding artistic work within the past three years, a long meritorious artistic career, or a contribution to a specific artform. The combined value of the state prizes is 360,000 euros.
The awarding of state prizes is decided annually by national arts councils, which are expert bodies of the Arts Promotion Centre Finland (Taike). The State Prize for Children's Culture and the State Prize for the Social Impact of Art are decided by the Director of Taike based on proposals by the arts councils. 
The awards were presented by Jenni Haukio, Spouse of the President of the Republic of Finland, at Little Finlandia in Helsinki on 13 December 2022.
State prizes awarded in 2022:
State Prize for Children's Culture
The Arts Promotion Centre Finland has awarded the State Prize for Children's Culture to Alexandra Mangs (b. 1985) and Annika Åman (b. 1986) for their passionate work in children's and youth theatre. In 2012, they founded the Unga Scenkompaniet children's and youth theatre company in Swedish-speaking Ostrobothnia. Mangs is an actor and artistic director, while Åman is a producer, dramaturg and artistic director.
For ten years already, Mangs and Åman have been creating boundary-breaking community theatre art that gives voice to children and young people. Each theatre performance is based on strong background research and collaboration with children and young people. This working method enables genuine interaction with children and young people, as well as their worlds.
According to Mangs and Åman, children and young people are entitled to high-quality art experiences. Through their theatre art, they have addressed difficult and painful topics, such as fears and shame, but also the most wonderful and fantastic aspects in the lives of children and young people. Mangs and Åman believe that theatre can break ceilings and boundaries and help build a better society. They create an operating environment that provides a safe framework within which communities can become stronger and face scary and challenging issues, as well as find solutions to them.
State Prize for Architecture
The National Council for Architecture and Design has awarded the State Prize for Architecture to architect and construction researcher Erkki Mäkiö (b. 1943), who has made a significant career in the preservation, protection and research of the old building stock. At the heart of Mäkiö's thinking and activities are structures and materials as the fundamental starting point of architecture. Along with restoration planning, he has been speaking and writing for decades about the benefits of traditional structures, building conservation and the utility value of buildings.
While working at the Building Information Foundation (RTS), Mäkiö initiated and ran a research project that was later continued by a working group and produced a series of publications on the history of Finnish apartment buildings. For a quarter of a century, he worked at the Finnish Heritage Agency in the restoration of our stone-building heritage, with work sites ranging from medieval castles to the building stock of the 1950s. Mäkiö specialises in solving problems related to structures, technical issues and usability by applying them to the architecture of the sites. A book containing thousands of drawings will be published in 2023.
As an architect, Mäkiö began highlighting aspects of sustainable development already in the 1970s and 1980s. With this award, the arts council wants to thank him for speaking out against the technicalisation of buildings and for promoting simple solutions and repairable structures.
State Prize for Design
The National Council for Architecture and Design has awarded the State Prize for Design to professor and textile artist Kirsi Niinimäki (b. 1963), who has dedicated her working career to studying the environmental effects of the textile industry and fast fashion, as well as to finding solutions to the problems caused by it. As a professor at Aalto University, she has highlighted the complex relationships between design, production methods and consumer choices.
In her work, Kirsi Niinimäki wants to create new and easy-to-understand scientific information about sustainable fashion and the textile industry. Her internationally significant working method promotes collaboration between different actors, strategic design and a circular economy. Introducing this vision to the training of future designers is central to the development of the field.
Niinimäki has made a lasting impact while teaching at Aalto University. Through her writings, as a lecturer and in collaboration with other actors in the industry, she actively and widely shares her expertise in the field of design. By presenting the state prize to Niinimäki, the arts council wants to highlight the importance of research in the development of design, the role of sustainable development in the future of the industry, and Finland's position in promoting these.
State Prize for Cinema
The National Council for Audiovisual Art has awarded the State Prize for Cinema to director, screenwriter Teemu Nikki (b. 1975) and producer, screenwriter Jani Pösö (b. 1969). The pair's most recent films include "The Blind Man Who Did Not Want to See Titanic" (2021), the lead role in which is played by Petri Poikolainen, who suffers from MS. The film has been awarded at many film festivals. Teemu Nikki and Jani Pösö have been awarded the State Prize for Cinema specifically as a team, because the production and artistic work of the two artists support and enable each other. The films of Nikki and Pösö combine surprising perspectives and a fresh approach with a high artistic level.
The pair has made short and long films even with volunteers and sometimes applied for support only after work on the film was completed. This independent production method and treatment of the subject have produced films that deviate from the mainstream, such as Euthenizer, which in 2018 became Finland's Oscar nominee for best non-English language film, and the black comedy film Nimby (2020). In addition to films, Nikki and Pösö have produced the Finnish television series Sekasin and #Lovemilla, both aimed at young people. Sekasin deals with mental health problems among young people and was accompanied by a chat service for young people. The unembellished narrative of #Lovemilla addresses young people in a rare way.
State Prize for Media Art
The National Council for Audiovisual Art has awarded the State Prize for Media Art to visual artist Anni Puolakka (b. 1983). The artist uses autobiographical and documentary material in her works, from which she creates realities seen through a distorting prism. In her novel-like video works, worlds turn into mirror images: cyborgs are soft and mothers metallic. The subjects of her works vary fluently from complex family relationships to satirical reflections on her artist identity.
In terms of form, Puolakka's works lie in between the visual arts, performance art, theatre and cinema, and they are characterised by a multidisciplinary and unusually natural collaboration across the boundaries of art.
Puolakka's works have been screened this year at the Museum of Contemporary Art Kiasma's Ars22 exhibition, the Eye Film Museum in Amsterdam, and the Love & Anarchy film festival, for example. Puolakka has a Master's degree in visual communication from Aalto University and a Master's degree in visual arts from the Piet Zwart Institute in Rotterdam, the Netherlands.
State Prize for the Performing Arts
The National Council for the Performing Arts has awarded the State Prize for the Performing Arts to choreographer, dancer Elina Pirinen and Q-teatteri.
Elina Pirinen (b. 1981) is a multifaceted, individual and sparkling dance artist. As an independent choreographer, she and her work groups have created a recognisable stage language that has gained international interest.
Pirinen's approach can be found in feminist, psychodynamic and ceremonial corporeality and the language of movement. She is inspired by a psychoanalytic orientation in examining reality and fantasy. She is known for her physically and emotionally impressive, sensuous performances with deep artistic processing and multi-layered expression. Pirinen creates original, bodily and poetic stage worlds and meditative emotional states. Her portfolio includes more than 20 choreographies.
Pirinen completed her latest choreographies in international contexts in Lausanne (2019), Salzburg (2020) and Reykjavik (2020) during the Covid-19 pandemic. In spring 2023, she will bring her work Mortal Tropical Dances to the Erkko Hall of Dance House Helsinki with 6 dancers and 18 live musicians as part of the SPARKS project. Pirinen received the Finnish Critics' Association award "Kritiikin Kannukset" in 2014 and the Prix Jardin d'Europe choreographer award in 2015.
Q-teatteri is a professional group-based theatre founded in 1990 by freelance actors Antti and Leo Raivio and Heikki Kujanpää. Q-teatteri has deep roots in its membership, community and collaboration. The development of the theatre from a generational phenomenon to an impactful stage that unites different generations has been the result of a long process.
Since 2012, the artistic direction of the Q-teatteri has been in the hands of the ensemble and theatre director Antti Hietala, whose vision and boldness have expanded the appreciation of the theatre's potential. During this time, Q-teatteri has offered an exceptionally high-quality repertoire of domestic premieres that challenge Finnish drama literature.
This repertoire policy has also laid the groundwork for innovative theatrical ways of thinking and forms of expression. Q-teatteri has brought a number of Finland's most interesting theatre makers to the attention of the general public and actually discovered them, including the likes of Akse Petterson, Saara Turunen, Milja Sarkola and Juho Mantere, who is now taking over as artistic director. It has also presented premieres by E.L Karhu, works by Leea Klemola, works written by its own ensemble and directed by Jani Volanen, and works by Antti Hietala.
State Prize for Literature
The National Council for Literature has awarded the State Prize for Literature to author Kari Hotakainen and translators into Finnish Ville Keynäs and Anu Partanen.
It has been 40 years since the publication of the first book by Kari Hotakainen (b. 1957). During his career, Hotakainen has published works of poetry, novels, children's books, a book for young people, plays and audio plays. Throughout his career, Hotakainen has renewed his literary expression and taken on new challenges. His earliest works include humorous prose poetry, while those in the 1990s and early 2000s were marked by elements of postmodernism, playing with narration and fiction in his novels "Buster Keaton", "Bronx" and "The Classic". Hotakainen has also written more realistically in his novels "Trench Road" and "The Human Part", which attracted a large readership.
Hotakainen has created a unique style that is characterised by startling figures of speech, aphoristic sentences, and the overlapping of the comic and the serious. Hotakainen is also a social critic. He has satirised urbanisation, gender roles, changes in working life, the commercialisation of the publishing world, the increased storytelling of culture, and inequality. Despite his criticism, Hotakainen's literary output is relatable and humane: empathetic and understanding of man's limited possibilities.
Ville Keynäs (b. 1960) has had a decades-long career as a translator into Finnish of French-language literature and Anu Partanen (b. 1959) as a translator into Finnish of Spanish- and French-language literature. As a working couple, they have successfully translated several works from the French language into Finnish. Their excellent co-translation of Maylis de Kerangal's novel "Naissance d'un pont" was published in 2022. Originally published in France in 2010, the novel describes the construction site of a bridge in the fictional city of Coca and expands through its various human destinies into a sharp-eyed social critique. The tentacles of the construction site are like a multi-threaded society in miniature, and work processes are interestingly and nuancedly described from very different perspectives.
The experienced, skilled Finnish translator couple has realised the meandering narrative and refined long-sentence style of de Karangal brilliantly. All in all, Keynäs and Partanen have skilfully created a unique work with all its special vocabulary and technical details for Finnish readers to enjoy and have created a wonderful work of verbal art in Finnish.
State Prize for Music
The National Council for Music has awarded the State Prize for Music to musician, songwriter Hector and composer Riikka Talvitie.
Hector (Heikki Harma, b. 1947) is a pioneer and trendsetter in Finnish rock and Finnish-language rock lyrics. Spanning five decades, Hector's career grew out of the guitar rock, folk and protest songs of the 1960s, the illusions of the 1970s and the disillusionment of the 1980s.
Together with his contemporaries Juice Leskinen, Dave "Isokynä" Lindholm and the following generations of Finnish rockers, he created a new kind of culture of songwriting and musical self-expression, free of boundaries and rules.
Hector's recorded output is part of our common songbook and collective pop memory: Lumi teki enkelin eteiseen, Nostalgia, Mandoliinimies, Kuunnellaan vaan taivasta, Jos sä tahdot niin, Juodaan viinaa, Kaikki tahtoo rakastaa, Yhtenä iltana and so on. 
Hector is a romantic, a lofty idealist and a melancholic lyricist, a warm-hearted mixer of high-flying spheres, humour and the banal, and an understander of life.
"Yhtenä iltana vannoisi rakkauttaan / "One night, she would swear her love
Yhtenä iltana maailma ois kohdallaan / One night, all would be right in the world
Yhtenä iltana aikuiset lapsia ois / One night, adults would be children
Laulaa ja leikkiä maailma vieläkin vois" / The world could still sing and play"
Yhtenä iltana ("One Night" – 1990)
Riikka Talvitie (b. 1970) is one of the leading Finnish composers of her generation. She studied oboe, composition and electronic music at the Sibelius Academy and in Paris.
Talvitie continues the best traditions of modernism in her music with a personal touch. Her background as an instrumentalist can be heard in it in her form of communicativeness and practicality. At the same time, Talvitie has questioned the conventions related to composing – and more broadly authorship – by working in an exceptionally active interaction with performers, fellow composers and artists in other fields.
Talvitie's works, both text-based and instrumental, are mostly connected to their environment both in terms of content and functionality, commenting on and challenging it, but also striving for dialogue with it. The themes she has addressed have included, among others, equality and ecology.
Teaching and research are a central part of Talvitie's composition, and she has also worked with children and young people for a long time. In this way, the field has accumulated valuable experience and knowledge about the interface between composing and music education.
State Prize for the Visual Arts
The National Council for the Visual Arts has awarded the State Prize for the Visual Arts to visual artist Jussi Kivi (b. 1959), who is known for his poetic relationship with the environment. In his art, Kivi deeply explores human traces in nature and the city. He ventures into hidden or forgotten places and landscapes on the borders of nature and culture. He presents his discoveries as original multidisciplinary works. Kivi makes us look at and appreciate landscapes in a new way. You can find beauty in them, but also irony and politics.
Kivi has had a long and distinguished career as a visual artist, writer and teacher. He was awarded the Ars Fennica prize in 2009. Since 1981, he has participated in significant Finnish and international exhibitions and festivals, including Momentum – Nordic Contemporary Art Festival (2006). At the Venice Biennale in 2009, he represented Finland with his spatial work "Fire & Rescue Museum". Kivi's installation "Heritage Room of Local Artefacts and Anomalies" captivated the minds of many visitors to the Helsinki Biennale in 2021. Kivi has written the books Kaunotaiteellinen ererretkeilyopas ("Trekking Guide for Art Lovers" – 2004) and Hämäräperäää utkiusmatkoja ("Shady Expeditions" – 2015).
State Prize for Photographic Art
The National Council for the Visual Arts has awarded the State Prize for Photographic Art to photographer Hannele Rantala (b. 1952), who has enjoyed a long and productive career. Her long-term work has expanded our understanding of what photographic art can be. Rantala comments on social and topical challenges beautifully and poetically – without forgetting some wry humour.
Rantala explores being the object of observation from many perspectives. She often documents herself applying different roles in varying environments, expressing the feeling of being outside, the invisible actions of everyday life, shame and change. The characters may be imagined, but Rantala guides the viewer to identify with the situations in her own unique and simplified way. Observing her photographic art, one feels a strong presence and togetherness. Rantala is an inspiring role model for younger generations.
Rantala's most recent exhibition was "Dialogue" at Ateneum Art Museum in 2022. "Fiasco - Moral Failures" was exhibited at the Photographic Gallery Hippolyte in 2018, and the publisher Musta Taide published her book of the same name this year. The retrospective exhibition "The End of the Wonderful Times" was exhibited at the Finnish Museum of Photography in 2015. In addition to her exhibitions and published books, Rantala's artistic output includes various performances, such as "The Bridge (Sweeping the Williamsburg Bridge)" from 2014.
State Prize for Multidisciplinary Art
The National Council for Diversity in the Arts has awarded the State Prize for Multidisciplinary Art to Pauliina Feodoroff (b. 1977). Feodoroff is a noteworthy multidisciplinary artist who has actively promoted the status of Sámi culture for decades. She has worked as a film and theatre director and screenwriter. Her work as a Nordic curator has been significant, for example in highlighting the consequences of colonisation.
The work of Feodoroff's as an artist is multidisciplinary and cross-boundary. The themes of restoration and improvement are emphasided in her work. As a Kolta Sámi, the lands of her ancestors remained on Russia's side when the borders were closed in 1944. Pauliina Feodoroff's works take a stand on the land and water rights of the Sámi. She has participated in projects to restore the Näätämöjoki river and to promote reindeer herding in the forest and fish spawning in the river. Her work combines art, land management and research in a unique way. Her latest works include Matriarchy, which was exhibited at the Venice Biennale in 2022.
Pauliina Feodoroff's work is unique in the field of multidisciplinary art by combining elements of art, conservation and renewal. She demonstrates through her work how the concept of multidisciplinary art can be extended to apply to the living ecosystem, as well as our political and historical heritage. At the same time, Feodoroff highlights the importance of listening and interacting as a healing force.
State Prize for the Social Impact of Art 
The Arts Promotion Centre Finland has awarded the State Prize for the Social Impact of Art to Artists at Risk (AR) for their work over the past ten years assisting artists whose freedom and lives are at risk.
Many countries in the world are not safe for professional artists. This is being highlighted today as Ukrainian artists are fleeing the war of aggression. Exiled Russian and Belarusian dissidents also need help.
The operations of Artists at Risk (AR) are internationally unique in organising and coordinating safe residencies for artists at risk. The organisation works at the intersection of human rights and art. It helps artists whose human rights and freedom of expression are being violated, whose lives are threatened, or who are fleeing war all over the world. The Artists at Risk network includes more than 500 hosting institutions. Reaching safety requires visas, residence permits and help in organising trips, as well as residences and income. This requires significant coordination work. In addition to these essential elements, Artists at Risk offers its artists in residence ways to network with the local art community and opportunities to continue their artistic activities. The artist is seen as a respected art professional, not as a refugee in need of protection. The award was accepted by Marita Muukkonen and Ivor Stodolsky from Perpetuum Mobile ry.
Further information: 
Architecture and Design: Lea Halttunen, Special Advisor, Taike, t. +358 295 330 713
Cinema and Media Art: Sari Ilmola, Special Advisor, Taike, t. +358 295 330 830
Performing Arts: Marja Susi, Special Advisor, Taike, t. +358 295 330 894
Literature: Ansa Aarnio, Special Advisor, Taike, t. +358 295 330 701
Visual Arts and Photographic Art: Kirsi Väkiparta, Special Advisor, Taike, t. +358 295 330 724
Children's Culture: Arja-Liisa Räisänen, Special Advisor, Taike, t. +358 295 330 722
Multidisciplinary Art: Tuulikki Koskinen, Special Advisor, Taike, t. +358 295 330 728
Music: Salla Mistola, Special Advisor, Taike, t. +358 295 330 875
Social Impact of Art: Henri Terho, Head of Arts Support, Taike, t. +358 295 330 901