Person
Venla Korja
Job title
Regional Artist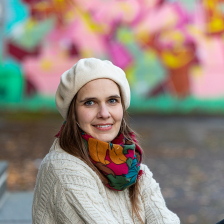 I am a Regional Artist and work in Taike's art, health and wellbeing advisory services. In my work, I promote the embedding of culture and art in societal structures.
I am building a community college-based model for the mediation of cultural wellbeing. The objective is for art to reach those who need it and to help wellbeing services counties find artists as part of their multidisciplinary work. The project is related to the activities of cultural wellbeing mediators, creating a service path and employing artists.
My work is initially focused on South Ostrobothnia, but in addition to regional work, I promote issues nationally with the aim of establishing a national mediation model.